Last weekend, for my birthday, Matt and I went to visit our friends Mike and Josh in New York City. I know Mike from Vassar; he was a freshman when I was a senior, and he's one of the few people I've really kept in touch with since college. (Funny, when you consider we didn't get along at first!) I met Josh not long after they started dating, and was one of the attendants in their wedding.
These days they live in Long Island City, close to the East River. I was jealous at how central they were — just one stop on the 7 subway line from Manhattan. (Not so jealous at the size of their apartment, though).
Friday night we got in pretty late, but we had some Thai food before settling in to watch an episode of RuPaul's Drag Race, season 11 — we were going to a drag brunch on Sunday, and Evie Oddly, one of the contestants from that season, was going to be a guest at the event. I actually had never watched it, but man, do I appreciate the amount of costuming work that goes on there…
Saturday Mike took us on a walk through Gantry Park, which has amazing views of Manhattan. We had brunch at an local French cafe, and then headed into Manhattan to visit the Metropolitan Museum of Art.
I gotta say, after going to so many London museums — where basic admission is "pay what you want" — paying $50 for Matt and I to just get in the door of the Met was kind of discouraging. New York, New Jersey, and Connecticut residents do still get in for "pay what you want," and another friend claims that they can bring in one other person for that, too, but Mike didn't know about that, there was nothing signed to that effect. Also it seemed like you had to actually interact with a person to "pay what you want," which I think reduces the likelihood that anyone will pay less than the $25 suggested donation. (In London, it's just a box you put money in).
(I was even more salty about paying $4.75 for a bottle of water in the cafe of the American wing, lemme just say. Especially when I found a water fountain nearby).
Even more discouraging was the fact that the Costume Institute, which I most wanted to see, wasn't open until May. So instead we explored the Egyptian wing — where I was especially taken with the reconstructed Temple of Dendur — the sculpture garden outside the American wing, and a display of Native American art.
I also appreciated the places where the museum had sought additional interpretation for some of its more disturbingly colonialist pieces, i.e. the "Dying Mexican Girl" sculpture, with an added statement by a mestizo poet.
We didn't spend all that long at the museum, because I find museums sooooo overwhelming and intellectually tiring (yet another reason I don't want to pay $25 admission, when I can't spend more than a few hours there at a time). We went over to Central Park, which was right nearby, and saw Cleopatra's Needle. Pedant that I am, I couldn't help pointing out that it has nothing to do with Cleopatra, pre-dating her by about 1400 years, to the reign of Thutmose III.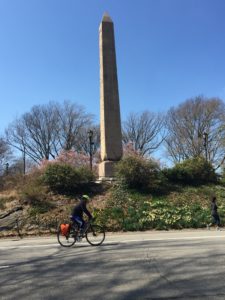 We wondered a lot about the bronze crabs that appear to be holding up the needle; one of the interpretative signs says they were added by the Romans when it was moved in 12 B.C., and are meant to support the eroding base of the pillar. But… why crabs, we still wondered? (Apparently because they are associated with Apollo and the sun!)
(I also learned that the ones there now are modern casts; the originals are in the Sackler wing at the Met).
We walked across Central Park and over to Columbus Ave, somewhere in the 90s, where we met Josh, who was coming from the hospital where he works. We had drinks at the closest cafe, and then decided to take the long, slow way — the bus — down to West 32nd street, in Koreatown, which was where they were taking me for dinner.
The place we went was called Pocha 32 — a "pocha" is basically a Korean bar, similar to a Japanese izakaya. This one was very much a hole in the wall — barely visible from the street, up steep steps to a dining room with metal tables and chairs, and smelling like a wet basement. There was green netting hanging from the walls and ceiling, and the foil wrappers from wine bottles had been hung from the netting to give it additional color. (Mike and Josh informed me that folks used to write well wishes on chopstick wrappers and thread them through the netting, though we're guessing the fire department shut that down).
Pocha food isn't fancy, by any means; it's more "kitchen sink" fare than what you'd get at a traditional Korean restaurant. There was definitely a lot of hot dogs and Velveeta mixed throughout the dishes we ordered (which are usually small and shared, kind of like tapas). Everything we tried was amazing, though I can only remember wha I ordered: kimchi fried rice, which I was surprised to find came wrapped in an omelet. (Still delicious, though).
But really, a pocha is about the soju. None of us were interested in getting shit-faced, but we did order a melon soju punch to share (served in an actual honeydow melon!) which was delicious, and became even more so the longer it sat.
And then there was the birthday squid! Since it was my birthday, Josh convinced the staff to bring us a squid dish with candles on it — something he'd seen done the last time he was there. And let me just say, this shut down the restaurant. An electronic version of "Happy Birthday" blared over the speakers while I struggled to blow out the trick candles they had put on the squid. And the song just… went on. For a good long time, while I was slightly mortified, but tipsy enough from melon punch to not care.
We were pretty exhausted after all this, so we took the subway back to Long Island City and relaxed for the rest of the night, watching the 1974 version of Murder on the Orient Express. While I did not much like Albert Finney's Hercule Poirot, special props goes to a young Michael York, who was delicious as the Hungarian count Andrenyi.
And finally, on Sunday, we went back to Manhattan for drag brunch at a club called Iridium, right between the Stardust Diner and the Winter Garden. The show was pretty good — I definitely liked Evie Oddly's performance a lot — but the table service was abysmal, and the overall experience was very touristy. Mike says he has other, more niche, drag shows in mind if I come back to NYC.
We finished up the day with a game of Smash Up and a very brief trip to the roof deck, before the weather turned cold. And then Matt and I made the long pilgrimage back to Massachusetts…
Also just a word about Aggie, Mike and Josh's SUPER AFFECTIONATE American bulldog mix. She would have licked us to death, if allowed. I came home covered in dog hair and slobber, and I don't even care. I do love dogs, but it did confirm my opinion that I like them best when someone else owns them 🙂