I didn't go to Intercon this past weekend — the first one I missed in nearly fifteen years! — for Reasons, so I ended up having my pal EB over. It was supposed to be a relaxing (kid-free, for her) weekend, and it was. But if there were any themes, they were "the terrible movies of Barry Mahon" and "Atlas Obscura sites in Clinton, Massachusetts."
Terrible Movies
First, the bad movies. I wanted to show EB the RiffTrax of The Wonderful Land of Oz, a Mahon movie based on one of the lesser of L. Frank Baum's Oz novels. EB had actually read said novel, and wondered just how you could make it worse.
The answer? Barry Mahon, bad puppetry, and singing.

Credit: Rifftrax.com
This RiffTrax is probably one of my all-time favorites, making much of the fact that the director's son, Channy Mahon, plays Tip/Ozma, and the fact that Barry's Mahon's oeuvre is largely composed of sexploitation films. (There's a recurring riff of Mahon bellowing pervy directions like "Tell her in the Jello pit!" to General Jinjur's mini-skirted majorettes). So, even though the movie itself stinks, it's at least a pleasure to sit through.
Of course, after that, we had to explore the other works of Barry Mahon. The RiffTrax page for Oz mentions Fanny Hill Means Dr. Erotico (and yes those are words that I just typed) and The Diary of Knockers McCalla, but we decided to limit ourselves to what was available free on Amazon Prime. Even that was a treat!
First, there's The Beast that Killed Women (1965), which is about a gorilla on the loose, killing the women (but only the women!) of the "most lovely" nudist camp in Miami. (No kidding, those words were on a screen at the beginning of the film). "Well, this sounds promising," said we.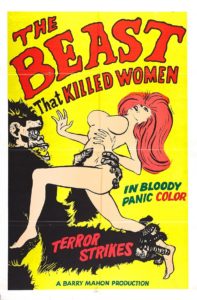 Just like the movie, this woman has no nipples. (Credit: imdb.com)
Well, not to disappoint, but it had less nudity than your average episode of Versailles. All of the men of this nudist colony wear short-shorts everywhere, and the female nudity is mostly limited to some side boob while the women get changed in the camp's locker room. There appear to be exactly two women who allowed their boobs to be shown on camera, and they form the weirdest Greek chorus of "a couple of women trying to get to sleep while their companions are getting killed." And by "trying to get to sleep," I mean "repeatedly being awakened and sitting up, reminding us that boobs exist." It should not be a surprise that they end up sleeping in the same bed.
Oh, and did I mention the whole thing is told through this framing device of "guy whose wife was attacked by gorilla, in the hospital for observation, explaining his story to detectives?" He exists to remind us that you could smoke in hospitals in the 1960s, I guess. He also has the funniest, most surreal exchange with his nurse near the end of the movie:
"Can I have my pants back now?"
"Sure."
The end of the movie, btw? Is pretty much just "THE END" stenciled on the back of a director's chair.
(While viewing the imdB page, just now, I learned that it was apparently Barry Mahon himself in the gorilla suit. I guess I'll just leave that fact there…)
The other Mahon movie we watched was Cuban Rebel Girls (1959), which is the oddest bit of cinema history. It was written, narrated, and acted in by Errol Flynn — his last movie, in fact, and he didn't even live to see its release (on Christmas 1959). Mahon was apparently late-life Errol Flynn's manager which… probably explains some things about some things. Like why this movie exists.

Credit: imdb.com
The basic premise is that a Cuban-American girl, Jacqueline, and her friend Beverly (played by Flynn's SEVENTEEN YEAR OLD "girlfriend" Beverly Aadland) fly down to Cuba to be part of the Cuban revolution! It'll be fun! After all, Beverly's boyfriend is there! (Shockingly, said boyfriend isn't played by Flynn; no, Flynn plays a serious-business war correspondent). Beverly learns how to use a radio and dabs some wounds; there is some peril, but not for any of the white characters, of course; Flynn drunkenly interposes himself into scenes; the lovers are reunited at Castro's victory parade. The end!
… yes, Fidel Castro. Like with so many revolutions, there was a time when well-meaning people — Flynn among them — thought that Castro was a righteous freedom fighter against the tyranny of then-leader Batista. And, while we know how that turned out here in 2019, in 1959, nobody anticipated that.
In fact, this movie was filmed, WITH CASTRO'S PERMISSION (the "new army of Cuba" is thanked for its "invaluable" assistance at the start of the movie), while he was still fighting Batista. Arguably it has some of the best extant footage of the Cuban revolution!
It also might just have more nudity than The Beast That Killed Women, if you're keeping track.
We watched other bad movies that had nothing to do with Mahon, too!
The end of our cinematographic weekend was somewhat anticlimactic — we watched some of the PBS Poirot series that I had on DVD. David Suchet is truly a balm for the bad-movie-wounded soul.
Clinton, Massachusetts
… is a small town not far from where I live in central Massachusetts. There are three Atlas Obscura sites there — the Museum of Russian Icons, the Clinton Tunnel, and Fuller Field — and on Saturday afternoon, on a whim, we visited them all.
I don't have much to say about Fuller Field, as I don't much appreciate Things Baseball. We parked, we saw, we checked it off on AO.
The Clinton Tunnel — once the largest railway tunnel in Massachusetts — was a bit more of an adventure. For one thing, it's difficult to see from the road (a fairly busy highway, MA 70 and 62), and there's no place nearby to park, which means you have to go down to the Wachusett Reservoir parking area, about a quarter mile down the road.
Now, bear in mind it's currently winter in MA, and there was snow on the ground. Also keep in mind, this train tunnel once crossed the highway, and the Nashua River beside it, so it is raised fairly far above the level of the road, maybe 20′ feet up a steep hill, above a stone trestle. We had to climb up this hilly slope to get to the tunnel, and then we part-climbed, part-slid back down again when we were leaving. EB has a video somewhere of me sliding on my ass down the hill, and I look a mess in it, but I don't care, because I am having fun.
(This gave me the opportunity to acquaint EB with the rhyme, "Ladies and gentlemen, take my advice: pull down your pants, and slide on the ice" — though I could not explain to her where it came from or what it even means, besides, "it's just something my mother used to say").
All of the rails have been removed from the tunnel, so today it is really is just a pass through the hills of central Massachusetts. The stone walls are spectacularly covered in graffiti, and in winter, ice freezes in wondrous patterns coming through ventilation shafts. We didn't go all the way through the tunnel — the ice made the footing treacherous after a short distance, and neither of us had dressed for a hike — but you can see the exit from the entrance, though it goes on for quite the distance. It definitely didn't seem as long as the Hoosac Tunnel, which I visited a couple of years ago, whose exit I couldn't see.

And here's a picture of EB pointing at the tunnel, the latest in a series I call "EB and Lise point at things."
All in all, I think the Hoosac Tunnel is a bit of a better trip — less graffiti, if that appeals, and it has a tragic history that appeals to me. But it's also waaaaay more remote than the Clinton Tunnel. (It's also still an active railway tunnel, so you can't legally walk through it).
But by far the longest part of our exodus to Clinton was spent at the Museum of Russian Icons. I must admit, I was a little hesitant to visit at first — "what interest do I have in Russian Orthodox iconography?" — but it won out for Saturday's trip, as it promised to be inside and warm. Also I was pleased to learn that I could get in free with my NARM membership.
I am so, so glad I went. You know those moments when a whole new landscape suddenly opens up to you, and reveals itself to be so much broader than you ever imagined? It was kind of like that.
With this whole new world (and yes, now that song is stuck in my head), I learned a whole new vocabulary, too! I learned about the oklad, the metallic, sometimes bejeweled frames that cover and protect many icons, so that only the important parts of the icon show. The mandorla, the almond shape that surrounds holy figures, representing a sort of protective circle. The minyeia, a calendar of saint's days, some of them incredibly detailed. (The Stroganoff minyeias are on display there, and I took great pleasure in finding the dog-headed St. Christopher in one of its panels).
I learned about the different Marian icons that exist, usually named after a particular icon they took inspiration from, (i.e. the Mary Smolenskaya, after an icon on display in Smolensk, is a Mary icon with her pointing to the baby Jesus as if to say, "this kid, yo" — also apparently this is what a Greek Orthodox person would refer to a Hodegetria).
I learned about the iconostasis, the wall of icons in Russian Orthodox churches.
I learned that apparently the St. Nicholas that is the patron saint of Russia, St. Nicholas of Myra, is the same saint that gave Santa Claus his name.
I learned that there are apparently a lot of saints venerated in the Russian Orthodox church that I –who was raised Catholic — have never even heard of, like Saint Paraskeva of the Balkans, or the two monks who founded a monastery on an island in the Arctic Circle.
I learned how the Russian Orthodox church preserved some aspects of the Byzantine Empire — in some ways, becoming a third Roman Empire — after the Turkish invasions in the 15th century; and I learned about the schism of the Old Believers, just two centuries later.
Possibly my favorite icon in the collection is one of the Last Judgment that is on the entrance floor; we viewed it near the end of the tour. The level of detail in it is incredible. I also was quite fond of the Saint Paraskeva that opens the tour, which the benefactor of the museum has tagged as his own favorite. The bright reds in it are especially eye-catching!

Not the same Last Judgment I admired, but a similar formulation, circa 1750. (Credit: museumofrussianicons.org).
Did I mention there's also a tea room on the lower level of the museum, complete with Russian teas and snacks, completely surrounded by a display of samovars? Did I mention the exhibit of contemporary Russian art? Or the fact that this building used to be a courthouse, and that the jail cells in the basement have been incorporated into it?
Basically, this is an incredible museum, and it's hard to believe it exists in a tiny town in rural Massachusetts. There was professionalism throughout everything; it was on the level of some of the biggest museums I've been to in Boston, London, and New York. I was skeptical at first, but I think I may be getting a membership to this museum as next year's NARM membership — there's so much more I want to see there, and there's a schedule of fascinating museum events, too.
We closed out our Saturday with a delightful dinner at Arisu Korean Restaurant in Leominster — nothing to warm you up after sliding down an icy hill like some kimchi-jjigae!