Links
Women Are Dying Because Doctors Treat Us Like Men. In a continuing vein of "the substandard medical treatment of women really pisses me off," I guess. I know much of what we know of heart disease, for example, comes from longitudinal studies like the Framingham Heart Study, which was all men.
Given my success with Zombies Run!, I am trying out a new fitness app for iOS: Ninja Fitness. Basically you level up your little ninja avatar, gaining different "belts", through doing real exercises in four categories: Strength (upper body and core exercises), Agility (lower body), Endurance (running), and Zen (yoga and stretches). As you exercise you also gain stars, which you spend to unlock more exercises, as well as outfits and whatnot for your avatar. It's not quite as slick of an app as Zombies Run!, but for 99 cents, I think it's worth it. I'll be switching to this for my runs where I just want to listen to my own podcasts without interruptions.
Accomplishments
Writing
– Wrote ~2800 words on a new short story, "Swan Song"
– Wrote a new poem, "The hope of the chestnut"
– Submitted "Remember to Die" to Arsenika
Reading
– Read "Sigrid Under the Mountain", by Charlotte Ashley (orig. in The Sockdolager; republished in Podcastle #468)
– Read "Sun, Moon, Dust," by Ursula Vernon (Uncanny #16A)
– Read "Auspicium Melioris Aevi" by JY Yang (Uncanny #15B)
– Read "Real Ghosts", by J.B. Park (Clarkesworld, March 2017)
– Read "I Know All of His Names", by Kate Heartfield (Liminal Stories, Spring/Summer 2017)
LARP
– NPCed for Madrigal 3
– Wrote PEL for Mad3
Other Media
– Listened to Radical Candor episodes 5-6, 15-17
– Listened to Larpcast episode #88
– Listened to Happier with Gretchen Rubin, episodes #114-115
– Listened to Stuff You Missed in History Class, "Three Nuclear Close Calls" and "A Brief History of Foreign Food in the U.S."
– Watched episode 13 of the new MST3K
– Watched episodes 36-39 of the Forensic Files collection
– Watched episode 1-2 of Bill Nye Saves the World
Health
– (Mon) Did Zombies Run 5K training week 8, workout 1
– (Tues) Did Ninja Fitness strength workout #1
– (Weds) Did Zombies Run 5K training week 8, workout 2… ish. (Had technical issues)
– (Thurs) Did Ninja Fitness strength workout #2, agility workout #1, zen workout #1
– (Fri) Did Zombies Run 5K training week 8, workout 2. Completed the program, woohoo!
– (Sat) Walk in the woods, don't know how far, maybe ~2mi?
Picture of the Week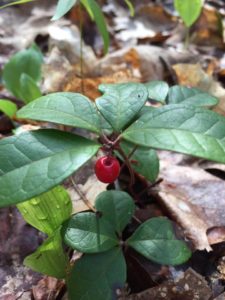 Gaultheria procumbens, one of the many plants known as "wintergreen" (also teaberry or checkerberry). This was the only picture from when I went wildflower-spotting this weekend — a lot of spring ephemerals had passed.