"Lise, haven't you made this post before?"
I don't think I have, though you may be forgiven for thinking so! My love of The Elder Scrolls games is well-documented, and I've certainly posted a bunch about them, here and elsewhere. And I've gushed at length in person about the aspects of this game series that make it unique.
But have I ever tried to lay out, in plain text, why I really, truly love these games? I don't think I have. I'm going to try to do that here.
(I have been writing this post for a long time. I think I have always been writing this post).

Alex Trebek was once an adventurer like you. Then… well, you know the rest.
A history of me and the Elder Scrolls
Way back in the summer of 2002, between my junior and senior years of college, I was living in a tiny one-bedroom apartment in Andover, MA, with my then-boyfriend-now-husband Matt. It was a weird time for me, now that I think of it — my first real time living with an S.O. In between doing temp work, I spent a lot of time playing old Gameboy games in emulation, posting on various yaoi discussion boards, and making my first cosplays. Truly, I was living the fangirl dream.
I was also watching Matt play a then-new game, Morrowind (or, as it is more properly styled: The Elder Scrolls III: Morrowind. I was unaware of Elder Scrolls I and II, at the time). I remember being immediately fascinated by the alchemy system — I had never seen a game with anything like that. You find ingredients in the world, and then you combine them? And magic happens? And you can combine things even if you don't know what they do, just to see what happens?
It felt like a complete redefinition of what a game was about, and I was down for it.
Soon I had my own copy of Morrowind installed on my PC, which went back to school with me. And, when things got particularly tough throughout that year — I was writing my thesis in cognitive science at the same time! — I would often retreat to my room, saying, "I'm going to play Morrowind until my eyes bleed."
My first, and still most well-remembered Nerevarine was an Argonian, the lizard-people race. Matt assured me that their skill in alchemy would make up for the fact that, as a beast race, I couldn't wear foot armor. For some reason I decided this Argonian wanted to join House Telvanni. Despite them seeing me as farm equipment, and despite not being very good at much besides alchemy, I persisted, and eventually got my sad little stronghold in the Molag Amur.
What was that game about for me? Well, I died to cliff racers, a lot. I explored Dwemer ruins, spiraling down into their extreme darkness, listening for the click-click-click of dwarven spider feet. I stole gems from daedric shrines and had the shit scared out of me by vengeful dremora. I visited reclusive Telvanni wizards and was surprised by their pet daedroths. I found books about fishy sticks. I poked lava with a spear. I sold many glass boots and Dwemer coins to Creeper. I went into battle wielding a lockpick more times than I can count. I created a pair of magic pants with 100pts of lockpicking (the Pants of Opening!) and used them to open every single chest in Divayth Fyr's labyrinth.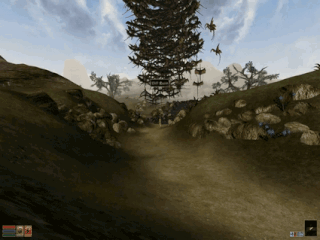 Did I mention cliff racers?
Games before this were fun, but Morrowind had the unique ability to make me feel Ways about Things.
When TESIV: Oblivion came out in… 2006(?) I was deep in WoW obsession, so I didn't play it nearly as much as I did Morrowind. I still have never quite made up for that: Oblivion remains my least played, and least loved game. That said, I've still put hundreds of hours into it; I just haven't finished anything — not the main quest, nor any of the guilds, nor any of the expansions. (I have it on my list of goals to remedy that!)
When TESV: Skyrim came out in 2011, I was HYPED. I had been playing Oblivion and Morrowind in anticipation, and I rebuilt my PC just to handle it on its Ultra graphics settings. This is the first and only ES game I had in Steam, so I can say definitively that I have put ~400 hours into this game. I did actually finish the main quest and most of the guild storylines, if only because they're so dang short.
Except the Dark Brotherhood. Because fuck you, Cicero, that's why.
I've also spent more time modding this game than any other; if you counted my time staring at TESVEdit/Nexus Mods/the skyrimmods subreddit, I'm sure I'd top 1000 hours. It was the first game where I felt the potential to mold it into a game that was even more suitable to my weird and unique tastes 🙂
And of course, when The Elder Scrolls Online (ESO) launched in spring 2014, I was ready! I already had a name and history for my first (and still my main) character before I even started — Falanu Dren, Dunmer templar, Hlaalu house-mer, veteran of the last Akaviri invasion, Vivec fangirl, Mephala worshipper, Morag Tong hanger-on.
Oh, and alchemist. Because this game has always been the alchemy simulator of my heart.

And here she is, visiting Ald'ruhn
I made a guild on not-quite-day-one, which remains populated with my real-life friends. I joined the UESP guild and had all kinds of wild adventures with them. I wrote fanfic about my character. I did veteran Dragonstar Arena and proudly sported the "Boethiah's Scythe" title.
I played from release until 2016, and then quit for two years, mostly just because Matt quit playing. I'm back now, though, and regretting my long absence 🙁 Just one day of getting into those deep, emotionally-wrenching quests from the Summerset chapter and I was like WHY DID I EVER LEAVE YOU??
So that's me! As you can see, I've been involved with this game series for a long time. And amazingly there's still SO MUCH MORE to do and see.
But why does it have such a hold on me? Let me count the ways…
Open-world/"sandbox" gameplay
These days nearly every RPG touts their open-world gameplay, but this was not always a Thing. Keep in mind that at the time TESIII came out, I was mostly playing sim and 4X games like Dungeon Keeper II, Alpha Centauri, CivII, and Black & White. In those days, I associated "video game" and "RPG" with the classic Japanese RPG, along the lines of Dragon Quest series. These usually provided a fairly linear "your princess is in another castle!" storyline, going from one place to another and fighting random wandering monsters. For RPGs at the time, I preferred my pen-and-paper RPGs, like Dungeons & Dragons, where the only limits were the imaginations of the players and the GMs.
So TESIII? Was a big step forward to me! It wasn't as infinite as a tabletop game, but it was wider and more expansive than any other RPG I had played to date. I started out following the main quest, but was surprised that the first quest NPC basically tells you, "yeah, kid, you're still wet behind the ears; go out and get some more experience before we send you on a real mission."

He also refused to put on a shirt.
Which I took to heart! I left no bandit hideout, daedric shrine, Dwemer ruin, or ancestral tomb unexplored. Did I mention I got lost? Because seriously, I got lost, a lot. Vvardenfell was small in terms of landmass, but I never felt its walls, since into that space were packed so many quests and random activities. (It also probably helped that it's an island).
(And if you got bored with all the content in the game? Well, starting with TESIII, the developer tools have been open to anyone with a copy of that game, in the form of the Creation Kit. There's a huge, thriving mod community for this series, even for the older titles like Morrowind).
There are many criticisms you could level against the gameplay of the TES series, and in particular against the simplification of the game systems over the years. But I will say this: Bethesda, and now ZOS, have stayed incredibly on-brand with this aspect of the gameplay. Even in vanilla Skyrim, your freedom is immense — to chase butterflies, mill grain, cook apple-cabbage stew, and do just about anything BESIDES be the Last Dragonborn. And ESO arguably hit its stride with One Tamriel — when it transitioned from a traditional MMO "theme park" model to an open world that levels with you.
I've certainly heard the joke that "sandbox game = no real content", but I've never found this to be the case with the ES games. On the contrary, it's always felt like there was more than I could possibly do. Some people may find that stressful, but I've always found that sense — of a world stretching beyond the bounds of the story — to be tremendously freeing.
A world that extends beyond the screen
When I was at Viable Paradise — the writing workshop I attended in 2013 — Jim MacDonald gave an enigmatic talk, which involved all of us looking at a dollhouse. "The reader can't see in the windows," he said (and I'm sure I am vastly paraphrasing here). "But, you, the writer, need to know what's on the table in that kitchen. You need to know how many people live there. You need to know what's in the basement."
This is what I'm talking about when I say that the Elder Scrolls world extends beyond the screen. At its core, this is a world filled with history — lore — which may or may not ultimately be relevant to what you do in the game. Tamriel will grind on, regardless of if you understand why you need to save the world from Alduin. If you heed the signs around you, though, they will lend depth to your experience.
Mostly this is in the form of diegetic texts. I've spoken to people for whom Skyrim was their first TES game, surprised by the number of lore books in the game. Indeed, a quick look at the Imperial Library or UESP's Library section will reveal hundreds, if not thousands of such tomes — fiction and non-fiction, history, metaphysics, plays, morality tales, bawdy songs. (And we're not even getting into letters or diaries…)
"Okay we gotta make sure the dark elves are the edgiest, what do we have checked off?"

"Gray skin, red eyes, black or red hair, mohawks are the norm, really like bugs, drug lords, xenophobic, insufferable assholes. Are we missing anything?"

"The kinkiest"

"Fuck gimme a sec" pic.twitter.com/WNLZS7sT3R

— Edge Lord (@pierceplotholes) July 24, 2018
In streaming, I quickly gave up on reading every bit of text I came across, as I'd spend more time narrating than I would playing the game. And while none of the lore books are full-length books, true — they're more like the Cliff Notes' version of a book — they flesh out the background of the world.
And that world? Is…
A truly alien world
One of the things that drew me into Morrowind — and why it remains my favorite game in the series — is the alienness of the setting. Most fantasy games at the time were pretty western European and whitebread. Suddenly I was thrown into this world of giant mushrooms, looming volcanos, ash storms, flea-based transportation, and land jellyfish.
Of living deities sustained by the discarded heart of a dead god.
Of a culture that clearly took inspiration from many real world civilizations, but rested solidly on none of them.
The architecture of my dreams. #ESO #Morrowind pic.twitter.com/rjFZJLzhqT

— LisePlays (@LisePlays) July 19, 2018
I'd be lying if I said the the subsequent games haven't been somewhat disappointing in that regard. Oblivion gave us Cyrodiil, home of the Imperials, who can often be glossed over as "fantasy Romans." Skyrim gave us the home of the Nords, our "fantasy Vikings" of the setting. If the speculation is correct, and TESVI gives us High Rock, home of "fantasy French people," I'm going to be somewhat disappointed.
(I mean, don't get me wrong; I sure do like fantasy France. But considering our other cultural options are things like "lizard people who live in a poisonous swamp and have a symbiotic relationship with sentient, godlike trees" or "the most metal cannibalistic hippy elves you've ever seen"… "fantasy French people" seems a little boring).
But even in the more recent games, it's been interesting to explore the nooks and crannies — the places where these cultures deviated from expectations. Under the bland "fantasy Romans" cover of Oblivion lies the story of how the races of men were originally subjugated by the Ayleids — elves who were cruel and beautiful and awful, who left behind gorgeous citadels — and how they won their freedom, with some divine help. How the Divines are worshipped publicly, but the Imperial City is "the city of a thousand cults", and many people are (not-so) secret daedra worshippers.

Like Falanu Hlaalu, my namesake.
As for Skyrim, it may seem snowy-bland on the surface, but then it has the Dwemer ruins I so missed in Oblivion. And beneath that, there's Blackreach, a nearly-lightless world of fallen architecture and phosphorescent mushrooms and terrifying creatures that stretches for miiiiles.
One thing I've really valued about ESO is how it's expanded the palette for the ES games, as it covers most of the landmass of Tamriel. You don't get to see much of Elsweyr or Black Marsh, true, but if you play through the Aldmeri Dominion quests, you see a LOT of Valenwood, and learn way more about the Bosmer — the aforementioned metal AF wood elves — than we ever have before. I also really valued getting to see parts of the Morrowind mainland that I hadn't before — Stonefalls, for example — and seeing Hammerfell and the Alik'r desert.
—
And that? Is where I shall leave you for today! Next time we'll tackle both TES' derivative origins and the way it has grown beyond them; we'll also discuss some METANARRATIVE WEIIIIIIIRDNESS (and why I love it).
In the meantime, if you want to let me know your own history with the TES games, I'd love to hear it in the comments!