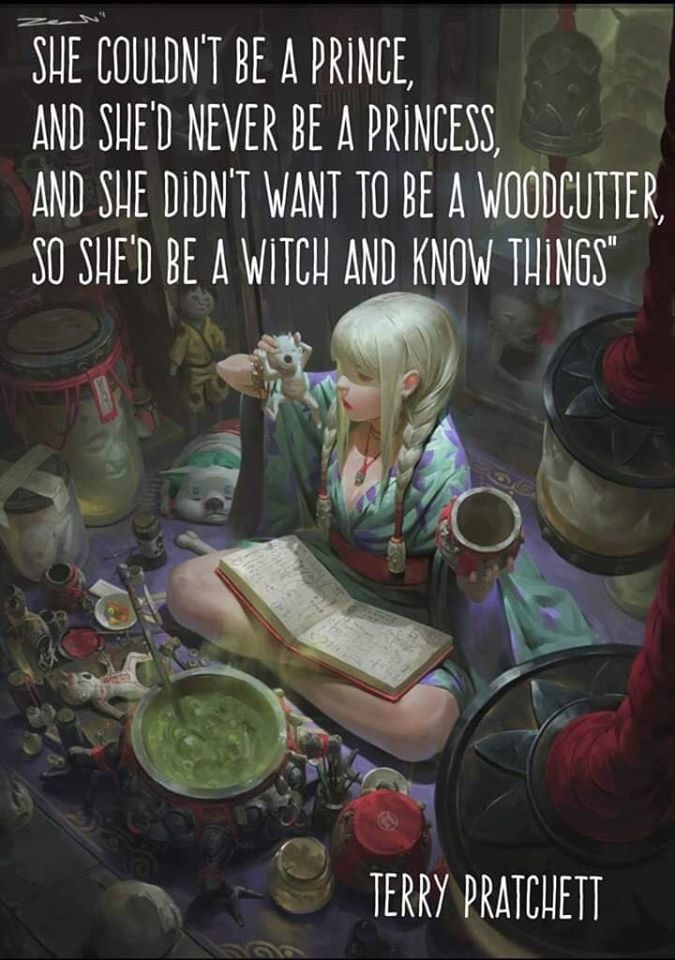 It's the first year of the new decade, and what do I want to do with it — the year I turn forty?
The theme this year is going to be "green witch."
… when I mentioned this goal to my friend Kim, their first question was, "Are you pagan?"
So… that's a tough question. I don't really want to turn this into a forum on my religious beliefs, but I will say that I have always been curious about pagan nature-based religions, like Wicca or druidry. For someone who grew up roaming through the woods, I find staying in touch with the natural world and honoring the course of the seasons very compelling. But whenever I've dug deeper, it has always felt disingenuous to fixate on the gods and practices of a land I have no real connection to.
(Plus sometimes pagan religions can shade in the woo direction too easily. I want an evidence-based way of being in the world, and nature spirituality; is that so much to ask?)
All of this tells you that I'm not going to be embracing my inner pagan. So what is this year about?
"Green" has a few meanings here, and I've definitely embraced the ambiguity of the term. I chose it for both "the natural world" and "environmentalism" meanings, with a smidge of "town green," i.e. the center of a town.
As for how I mean "witch," I'm drawing from a few fictional sources: Naomi Novik's book Uprooted, Terry Pratchett's Discworld witches, and the witches of the larp I'll be playing starting this year, Cottington Woods 2. (And I'll even be playing a witch!) I am very interested in the image of a witch as a crone, as a wise woman, as an advisor. Someone who may choose to live in solitude, but is deeply rooted in place, and deeply connected to the people of that place.
With that in mind, I've set down a few precepts for the year.
A witch stays in touch with the natural world.
"The witch knows nothing in this world is supernatural. It is all natural."

Laurie Cabot
I have a love/hate relationship with the natural world. It's both a sandbox of infinite curiosity and also sometimes deeply unpleasant. Ticks, poison ivy, mosquitos, heat and cold, and the ceaseless movement of wind and air care not for your photo opportunities and learning experiences. Like a narcissist, the natural world can't really love you back; the best it can offer is indifference.
Which… is a lesson in and of itself, don't you think? "Loving impossible things" sounds like the title of a course on being human.
To this end, there are a few things I want to try this year:
1) I want to plant a garden. And actually tend it, and harvest stuff from it. Nothing makes you aware of the fractiousness of nature like planting a garden! I have lots of decorative plants and shrubs around my property already, so here I more mean edible plants, like vegetables or herbs. I've had gardens in the past, and they've all suffered to varying degrees from my neglect. I'm ready to give this another try.
2) I want to forage some wild foods. Not as dangerous as some folks seem to think, especially if you stay away from anything ambiguous. (Like nightshades). Morel mushrooms are trivially easy to identify and tell apart from anything poisonous. Elderberries, too. And I'm fascinated by this recipe for elderberry mead that EB sent me…
3) I want to take a nature walk once a month. Not my normal walk/run, but a journey where the goal is to observe. I want to memorialize these observations in words or in art. Once a month, I think, is reasonable enough to fit into my busy schedule, while still observing the passage of the seasons.
Which brings me to my next point…
A witch honors the cycle of the year.
"The moon has awoken with the sleep of the sun. The light has been broken, the spell has begun."

Midgard Morningstar
By this I mean both the natural phenomenon, like full moons, equinoxes, and solstices, as well as human celebrations, like Christmas and the birthdays of important people in my life.
Observing holidays is a way of slowing down the passage of time, by making certain days feel special and less like every other day. This encompasses everything from decorations, traditions, gifts, etc.
Right now the way I celebrate the holidays is… non-existent, really. Christmas/Yule is really the only one I have any sort of observance of, which is usually putting up a tree and watching certain Christmas movies. (Muppet Christmas Carol and Scrooged, of course). But I usually do nothing for my birthday or my husband's birthday, and nothing for any other holiday.
I'd like to change this. Even if it's just putting out a pumpkin for Halloween, or getting up at dawn on the summer solstice, or going out to dinner on my birthday. These celebrations don't have to correspond to any faith; nor do they have to be unique to me.
I just want to signpost the fact that time is passing.
A witch lives hyperlocally.
"We were of the valley. Born in the valley, of families planted too deep to leave even when they knew their daughter might be taken; raised in the valley, drinking of whatever power also fed the Wood."

Naomi Novik, Uprooted
I live in a small town, but I often don't feel a part of it. I don't have kids in school here, I don't go to town meetings, I work in a town 40 miles away from it, and I do much of my shopping in other towns. (To be fair, the latter is largely because it's so small I have to go to surrounding towns for many needs).
The term "hyper-local" is one that I believe was coined by the Buy Nothing Project — at least, that's how I heard of it. I heard Mrs. Frugalwoods talking about her Buy Nothing group, where she could donate and receive items in a gift economy model, and that sounded like something I could get behind.
(It sounded very similar to Freecycle, actually, but the rules on Freecycle are much more fast and loose).
I looked into it, but at the time there was no group for my town. I could have joined one a bordering town's group, but you can only belong to one BN group, and doing so sorta defeated the whole "hyper-local" mandate of the movement.
As part of this theme, I decided I was going to start a Buy Nothing group in my own town. But then a nice member of my community decided to start one like… a week ago, so all I had to do was join it!
There's more to living hyperlocally than Buy Nothing, of course. (I am, at best, only middle-to-low-buy). It's making a choice to support local businesses and creators instead of going to the big box store. It's knowing you can depend on your neighbors. It's thinking globally, but acting locally.
Some specific hyperlocal things I want to do this year:
1) Attend a town meeting. Our local government is town meeting-based, which means that lots of important decisions are made there — like the plastic bag ban (which I have mixed feelings about), or the decision to ban all marijuana-based businesses from town (which made me livid. Why are you turning down income??) Have I ever attended one of these? I have not, dear reader. I should remedy this.
On a related note, my landowners' association doesn't have regular meetings, but when they do, I should attend. Of course I say this, and then they schedule a three-hour meeting to talk about finances on a Saturday where I have a bajillion other, actually fun things I could be doing, so…
2) Do more local shopping. Again, since it's a small town I can't find everything here, but I can generally find most things within the tri-city area.
Food is the biggest challenge here, but also the biggest opportunity, depending greatly on season. We have lots of farms in our town, and even more in the surrounding area, but we are also in USDA zone 5, so not everything is available all year. Over the thirteen years I've lived here I've gotten better at identifying the different local businesses I can frequent, so it's really just a question of setting up routines around going there instead of the Hannaford.
(And, I mean, I don't object to shopping at Hannaford; it does support the local economy in some ways. Just not as many).
3) Improve my relationship with my neighbors. This comes back to the Buy Nothing ethos, which states that "the true wealth is the web of connections formed between people who are real-life neighbors."
Regrettably I don't have the best relationship with my neighbors. When I moved here, I was new to owning a house, country living was difficult and confusing, and forging relationships with people was at the bottom of my to-do list. I think some of my neighbors took that personally, and I often feel like I'm still paying the penalty for that.
But having a working relationship with your neighbors is just unquestionably a better way to live. If I got along with my neighbors, I might be able to depend on them to watch my cats when I travel, or borrow tools from them, or let me use their shower when the power is out (we have a well, so no power = no water; my closest neighbors have a generator, though). And vice versa, of course.
A witch is not wasteful.
Witches… get their power directly from the earth, which asks for nothing but a sense of balance in return. Yet still, because of their tie to the earth, witches tend to try and protect it, treating others who squander the world's resources as foolish, and seeking sometimes to undo them.

Cottington Woods rulebook, "Witchery Skills"
This point ties into both environmentalism and frugality — two themes that often (but not always) go hand in hand. A witch, as I said, is tied to place; stewardship of that place depends on preserving its resources, whether that be funds or forests. It also ties into self-reliance, which was the underpinning of my last two years' themes.
To that end, this year I'd like to…
1) Complete Uber Frugal Month challenges in January and June. Some of you may recall I once had a frugality blog, and it's something I still care a great deal about — hence why I'm currently doing the Frugalwoods' Uber Frugal Month. (At least, I am. I wouldn't say Matt has 100% bought into the challenge). I'd like to do this again when it comes up in June.
2) Read The Zero Waste Home, and incorporate at least one of the tips into my life. I doubt I'm ever going to be anywhere close to "zero waste" — just like I doubt I'm ever going to be "no buy" — but that doesn't mean I can't make improvements in this area. And while I'm sure there are many good books about home environmentalism out there, this is one I happen to know about, so I figure it's a decent place to start.
3) Pay off my student loan and Matt's car loan. We're pretty close, and by my calculations we can finish it off this year.
A witch knows things.
She couldn't be the prince, and she'd never be a princess, and she didn't want to be a woodcutter, so she'd be the witch and know things, just like Granny Aching—"

Terry Pratchett
To me this precept is all about intellectual curiosity, with a local focus. Intellectual curiosity comes naturally to me, so I anticipate this portion being the most fun part.
Towards this sub-theme, I want to…
1) Join the "friends of the town library." I've been wanting to do this for a while, but they don't make it easy — you have to print a form off their website and bring it in with a check. So much for living in the future! But I do really love our library and make a ton of use of it, so I feel this would be a good way for me to give back.
Relatedly, I want to attend a program at the local library. I keep wanting to do this, but again, they don't make it easy. Since the library closes at 8pm on weekdays, the place is usually about to close up when I'm getting back into town at 7pm or 7:30pm. I think I can make this work with a little more planning, however.
3) Visit a few new-to-me local parks, attractions, hiking trails, and businesses. I'll start by coming up with a list of places I'd like to try!
I think that should keep me busy for at least another year!