Winter cleaning
In preparation for leaving for England + Matt's family visiting for the holidays, we've launched into a massive declutter of the house.
Eventually we would like the basement craft areas to be useable again, but primarily we just wanted to be able to find what we needed to pack, and to get the guest bedroom back in a state to host guests.
The big task with the first item was cleaning up our basement costume room, which was in a horrid state. How bad? Let's just say we had to remove the remains of a dead snake.
As for the guest bedroom, it wasn't too bad, but we needed to rehang the track lighting, which I'd removed in order to paint the room. We were able to finally hang the beautiful Japanese screen that belongs in there, too.
In the process I also got rid of a fuckton of books, and Matt cleared out a ton of clothes.
I felt a little bad dropping all that stuff off at the Savers — especially seeing stuff I paid Actual Cashdollars for sitting in the rain — but I also breathe a tremendous sigh of relief when I enter my home office. So it's a price I'm willing to pay.
New phone, who dis?
Thanks to Matt smashing his iPhone 7 on the brick floor of the mudroom, we both got new phones this weekend. While my phone (an iPhone 6) was still functional, and didn't strictly need to be upgraded, the battery was on its way out (as witnessed by it randomly turning off in the middle of a run earlier that day).
In the interest of being somewhat frugal, we opted for the iPhone XR, a slightly older model of iPhone. There was a slight hiccup when my phone somehow didn't get activated while I was at the Verizon store, but soon I was up and running.
And it's a big adjustment from the 6 to an XR! Face ID, and the lack of a Home button, are some of the biggest changes. There's also no headphone jack, but there are adapters I can use, and I have finally found some Bluetooth earbuds that will actually stay in my ears when I run.
Fun fact: Face ID will not work while wearing a CPAP mask. I suppose that cuts into my habit of checking my phone while still in bed.
I also haven't installed Facebook yet on my new phone. We'll see if I want it while I'm traveling…
One challenge we're having is that we still only have one Apple ID between our two phones, and that is becoming more and more of a challenge with each version of iOS. Clearly they want us to have two separate IDs and use Family Sharing, but we haven't set that up yet. I've already had to create a separate Apple ID for Game Center just to play TES: Blades on our iPad, as all of Matt's progress in Blades was tied to my Apple ID. I don't even think he has an Apple ID of his own, so this will require some thought. But that's a "when we get back from England" problem.
Speaking of which…
England!
We're leaving this week for our semi-annual trip to Consequences (the UK theater-style larp con) plus bonus UK tourism. This year after the con we'll be returning briefly to London to see the Tutankhamun exhibit at the Saatchi Gallery, and then we'll be taking the train to Bath, where we'll spend the rest of the week. We plan to see sights like the Roman Baths, Bath Abbey, the Fashion Museum, and the Jane Austen Centre, hit some Atlas Obscura sites (like Pulteney Weir and the Sham Castle), walk the six-mile Bath Skyline trail, and visit the Thermae Spa. Along the way I hope to have plenty of teas, sample some local specialties (Sally Lunns! Bath Spa Water! Gin from the Bath Gin Company! ), and maybe do some holiday shopping. (Baggage space permitting).
Reading
I finished reading Naomi Novik's Black Powder War, the third Temeraire book. It was solidly meh. The big problem I have with this book is there's not so much a "plot" as a "series of things that happens in a sequential order." It has, as my writing teachers would say, no through-line; nothing that carries you through to the end. And the end, when it arrives, takes you by surprise, because it's not clear what the promise of the book is and whether or not it's been fulfilled.
But, you know, it's at least well-written, and I enjoy spending time with Laurence and Temeraire.
I've begun listening to King of Scars, by Leigh Bardugo, which is her latest work in the world of the Grisha trilogy and the Six of Crows duology. This one, the first of another duo, focuses on Nikolai Lantsov, the new king of Ravka after the civil war. He has to deal with the politics of a reunited country, the consequences of everything that happened in the previous five novels, and some magical weirdness. Fun times!
I expected this book to tie more closely to the Grisha books than it did Six of Crows, taking place, as it — mostly — does in Ravka. But there's actually a surprising amount that ties back to the duology. We're still dealing with the consequences of the magic-enhancing drug that was discovered in the SoC books, and occasionally Nikolai will drop references to Ketterdam and a certain master thief he knows there. In addition, we get a viewpoint from Nina (a viewpoint character in SoC), rescuing grisha in Fjerda, and learning to harness her new powers.
The other viewpoint characters are Nikolai, naturally, and also Zoya Nazyalensky, his general and–dare I suggest?–future romantic interest? There's definitely some suggestion of that.
And, after having been in Zoya's POV, I certainly ship it. In the Grisha novels, and to a lesser extent in SoC, we're always seeing Zoya from the outside, first from Alina's POV, and then from various of the Crows (but mostly Nina). There, she's portrayed as this beautiful, talented squaller who is all too aware of her power, and it has made her standoffish and stuck-up. Inside her head, learning her personal history? Well, you begin to see how that competence might create distance from other people, and how she might choose to use that as armor instead of as a weakness. I relate to that pretty hard, actually.
Regarding the magical weirdness… in addition to sudden miracles happening all over Ravka, we find out in the first chapter that Nikolai's scars from the civil war aren't only skin-deep, and are affecting his ability to do his job as king. This actually threw me for a loop, since I had read the Grisha trilogy so long ago that I had forgotten what he was up to doing the civil war. But it turns out it's very, very relevant, so you might want to refresh your memory on that before reading this book.
Finally, I was delighted to see that Lauren Fortgang returned as narrator for this! They've apparently abandoned the ensemble cast idea from SoC, and I couldn't be happier. One thing I will say about having a consistent narrator across books is that when a character recurs unexpectedly — and you recognize them immediately by the voice — there's this moment of awesome when you realize you've cracked the code.
Anyway, I'm only about a third of the way through, but as usual with Bardugo's novels, I'm deep in the spell!
Meet the Frugalwoods, and financial musings
This started as another book review, but then it veered off into my own personal finance territory, so I decided to make it its own section.
I just finished reading Meet the Frugalwoods, by Elizabeth Willard Thames, "Mrs. Frugalwoods" of frugalwoods.com. Despite my love of frugality blogs, I'd actually never read this one; I picked up the book because I was looking for something nonfiction to read while visiting my mom, and the ebook was available on my library's Overdrive app.
This book starts with something I think is sorely missing from most conversations about frugality: a discussion of privilege. Thames admits that she and her husband, in building towards their goal of buying a homestead in Vermont, were starting from a privileged position in countless ways — coming from the middle class, being college-educated, being in well-paying jobs, etc. While so many frugality writers lean on "anyone can do this if they just learn to be frugal!", she admitted that not everyone is going to be able to follow in their footsteps.
And that? That was refreshing to hear. Reading that, I was instantly well-inclined towards the book.
For the most part, the book details their personal financial journey, from their first jobs out of college to buying their Vermont homestead and quitting their jobs to work it full-time. While the early chapters focus on the challenges they faced early on in their married lives, where it really gets interesting is when they decide to go for a goal of buying their homestead, and make a three-year extreme frugality plan to achieve it.
I really enjoyed how closely she and her husband aligned on their financial goals, and how they both had a vision of what they wanted their future together to look like. That was how they could make the decisions that allowed them to save 80% of their paychecks.
When I think about my own financial goals, what I realize is… I don't really have a clear idea of what I want my future to look like. I don't want to buy a homestead in Vermont, or have kids, or be a full-time blogger, like Thames and her husband wanted. I know that the goal itself isn't important, but without something to be saving for, how do I decide if I really need this $10 game that's on sale? How do I make a million different daily decisions?
Here's what I know for sure:
I would really like to not have to work for money — which is not to say that I don't want to work, but more that I don't want to be dependent on work. I've been in positions where I've been stuck in hellish jobs because I needed the money, and let me tell you, it is utterly soul-destroying.
I would like to create stuff and solve problems. Writing, mostly. Maybe making websites. Maybe streaming.
I would like to be location-independent, meaning I can work from anywhere, and time-independent, meaning I can budget my own time.
I would like to travel and have adventures. I don't need a ton of travel, and it doesn't have to be to far-off lands, but travel provides a type of mental stimulation that I can't get anywhere else.
Talking to Matt about what he sees our retirement looking like, he mostly agrees with this vision. He, like me, is a creative nerd, and he wants to keep making stuff as long as he can. But where we don't always see eye-to-eye is on the timeframe. He feels that we shouldn't rob today to pay for a tomorrow that may never come.
Which I completely understand! One thing I worry about is whether or not I will be in good enough health to enjoy a standard retirement, or if I'll live long enough to make use of all the money I'm socking away in my IRA and 401k. That, in fact, is usually my argument for an early retirement.
That said, "spend now" vs. "save for later" is not an all-or-nothing proposition. I think some of the biggest gains can be made just by cutting out things we don't value much. Which is a point that Thames makes: you can benefit from frugality no matter what part of the frugality spectrum you're on. Just because you can't achieve complete financial independence doesn't mean that you can't save anything, or that there are no gains to be made at all.
And what to do with that saved money? That's what I need to make these decisions around, right? I might feel different if I were, say, putting it into an investment fund called "Lise and Matt's Extremely Nerdy Early Retirement Fund," but (aside from the amount already going to tax-advantaged funds) we are still primarily paying down debt — mainly the mortgage, but also lingering student loans, a car loan, and the balance on the HELOC.
And, at the end of the day, paying down debt is just not very sexy or interesting. Alas.
(While there's something to be said for making use of compound interest by investing earlier rather than later, by paying down debt you're fundamentally giving yourself a rate of return equal to that debt's interest rate. And given the volatility of the stock market, a reliable 5% interest rate can be hard to come by in uncertain times).
Another thing that sticks with me from Meet the Frugalwoods is Thames' discussion of "insourcing," i.e. learning to do more things themselves, and being more self-reliant. She gives a famous example of watching a Youtube video about cutting layers in long hair and then writing up a bulleted list for her husband on how to cut her hair. She got a decent haircut (at least she says she did!), but more importantly, she felt it brought her and her husband closer together in the process. Learning to do something new together is a great way to reinvigorate those novelty feels in a relationship, I would think.
Since "self-reliance" is part of my 2019 prospective, you can bet this is something that resonated with me. I think I'm going to follow her advice for frugal holiday pictures and Christmas cards, for example. I've said I want more creativity in my life — why then should I pay someone else to take this opportunity away from me?
Picture of the week
Enough heavy financial talk–instead, enjoy this picture of two of my cats: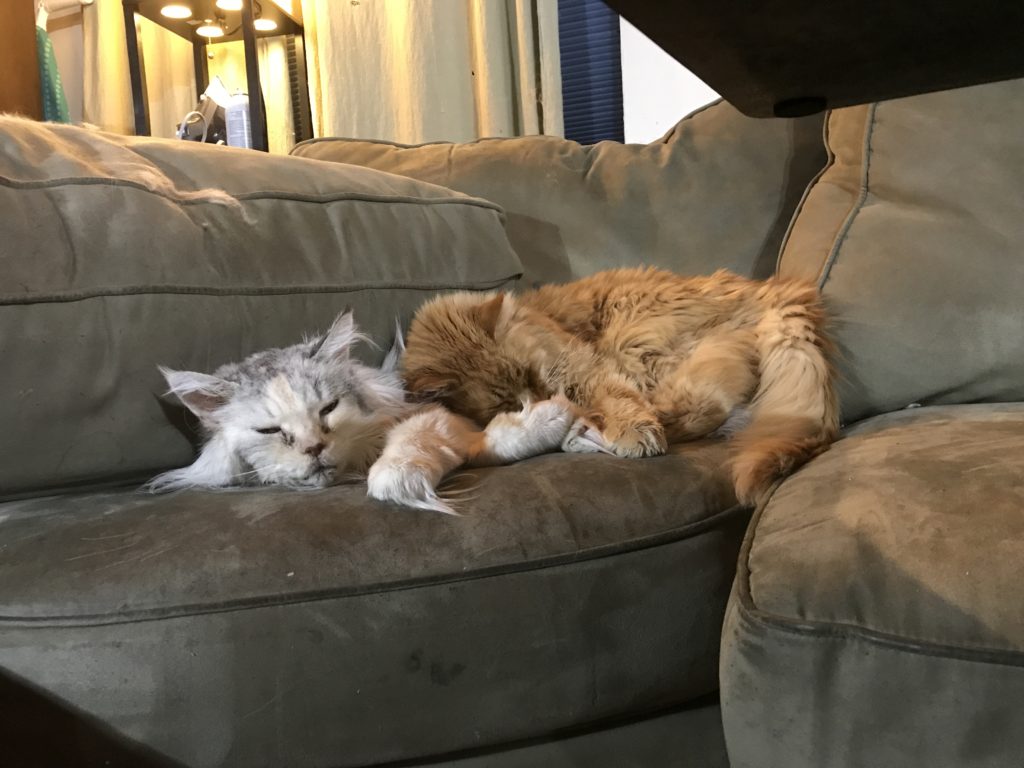 We call these two — Burnbright and Brianna — the "buddy Bs" because they often snuggle like this. They did not always get along this well, either, so we definitely savor moments like this when we see them!