Hello friends and family of the Fracalossi-LeVan syndicate! We're trying a little something different with the holiday letter this year, namely a) actually writing it, and b) making it entirely virtual, to save a few trees. I hope you found this without any problems.
This was a very busy year for us, with lots of travel, a home renovation, and a few new hobbies. Our primary hobby (and largest time suck!) continues to be LARPing, either with or without foam swords. This year we continued to play in the high fantasy game Shadowvale, which will end in 2020, and to NPC/staff Madrigal 3, an ongoing fantasy campaign. Matt was also playing Tales from the Cotting House, a short fairy tale-themed campaign game that wrapped up this year.
January started off modestly, with a low-key New Year's party at our friends' house. A couple of our larps held winter events that month, too. (At heated sites, thankfully!)
We also celebrated Matt's birthday — the big 4-0 — at the Melting Pot in Framingham, MA, i.e. the real happiest place on earth.
As part of a New Year's resolution, I began a daily meditation practice in January. I'm happy to state that I'm still keeping up with this, as of this month! I've found it very helpful for managing my mood and motivation levels. I highly recommend both Jon Kabat-Zinn's book Wherever You Go, There You Are as well as the Calm app. (I have codes for a free month of premium Calm, if anyone wants one!)
February saw us flying off to England again (this time Retford, near Nottingham) to participate in a weekend-long larp Torch of Freedom. This game takes place in a fictional Eastern European country amidst the revolutionary chaos of the 1840s, and takes a bunch of inspiration from Les Mis. Of course it inspired us to craft some appropriate historical garb of our very own. More about this trip, complete with pictures, here.
Instead of heading to the usual local larp con at the end of the month, we hosted a visit from our friend EB. We visited the Museum of Russian Icons in nearby Clinton, MA for the first time, and I was amazed at what a high-quality museum it is, especially for being in a tiny little town in central Mass. I liked it so much I bought a membership! More here »
March began with a trip to Wallkill, NY to celebrate my Granny Josephine's 90th birthday. Congrats to her on that epic milestone! Alas, I had to travel alone, as Matt had a larp that weekend. My family is eager to see him again soon!
While I was there, I visited a few Atlas Obscura sites, including the world's largest garden gnome (disputed), and the original, abandoned gatehouse of the Mohonk Mountain House.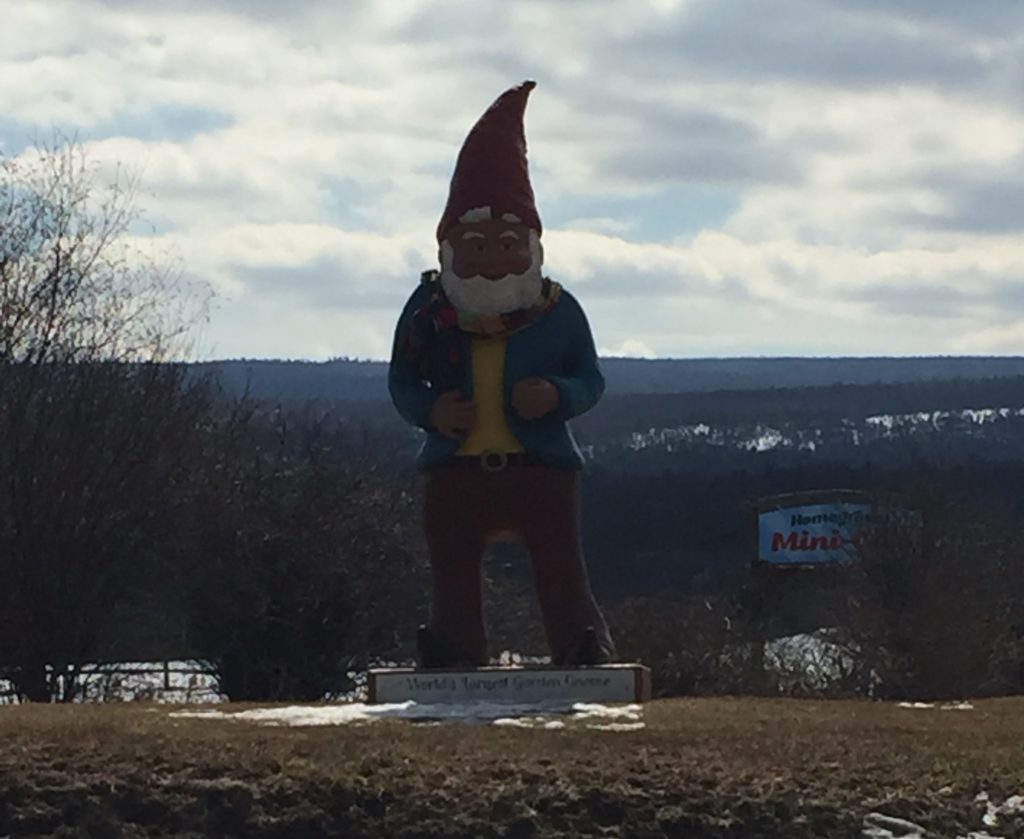 The very next weekend I was in western Massachusetts, at UMass Amherst, attending the NERD Summit, a web development conference for my work. It was mind expanding but also kind of exhausting.
April is my birth month, and we celebrated my 39th birthday with a trip to New York City to visit our friends Mike and Josh. They were gracious hosts, shepherding me to and from activities as diverse as visiting the Met, enjoying birthday squid at a bar in Koreatown, and attending a drag brunch. You can read all about this adventure here.
Appropriately enough, on Patriot's Day weekend I took a trip to historic Lexington and Concord with our friends EB and Alison. We visited Revolutionary War sites like Old North Bridge, Lexington Battle Green, and Buckman Tavern, as well as literary sites like Louisa May Alcott's Orchard House, the "author's ridge" of Sleepy Hollow Cemetery, and the site of Thoreau's cabin at Walden Pond. We also visited the Concord Museum, where we saw Paul Revere's lantern, as well as Thoreau's writing desk.
More details of our whirlwind Feb-Mar-April here »
May was when I embraced my inner Viking and took up another new hobby: mead-making. Mead, or honey wine, occupies an odd space halfway between beer and wine. Like beer, you can brew it very quickly, using ale yeast; alternately, you can treat it like wine, use champagne yeasts, and let it age for a long time for clear look and a higher alcohol content.
I began with making quick meads with ale yeast, using a recipe from — of all places — The Elder Scrolls Cookbook, based off the video game franchise we both love.
Fittingly, my first meads were for a "Skyrim dinner" I planned with our friend Alison, entirely using recipes from that book. We enjoyed Hot Mudcrab Dip, Moon-Sugar Glazed Carrots, Horker Loaf, and of course, Sweet Rolls, along with our sampling of Honningbrew and Blackbriar meads.
I also visited New Haven, CT with EB in May. I ate a meal at Louis' Lunch, the birthplace of the hamburger, and followed that up by exploring the brains in vats at the Cushing Brain Center at Yale's medical school. Yum?
June kept us busy with larp events, but my dad visited the weekend of Father's Day, and together we built a bridge to go across our stream! (Little did I know the fate that awaited it…)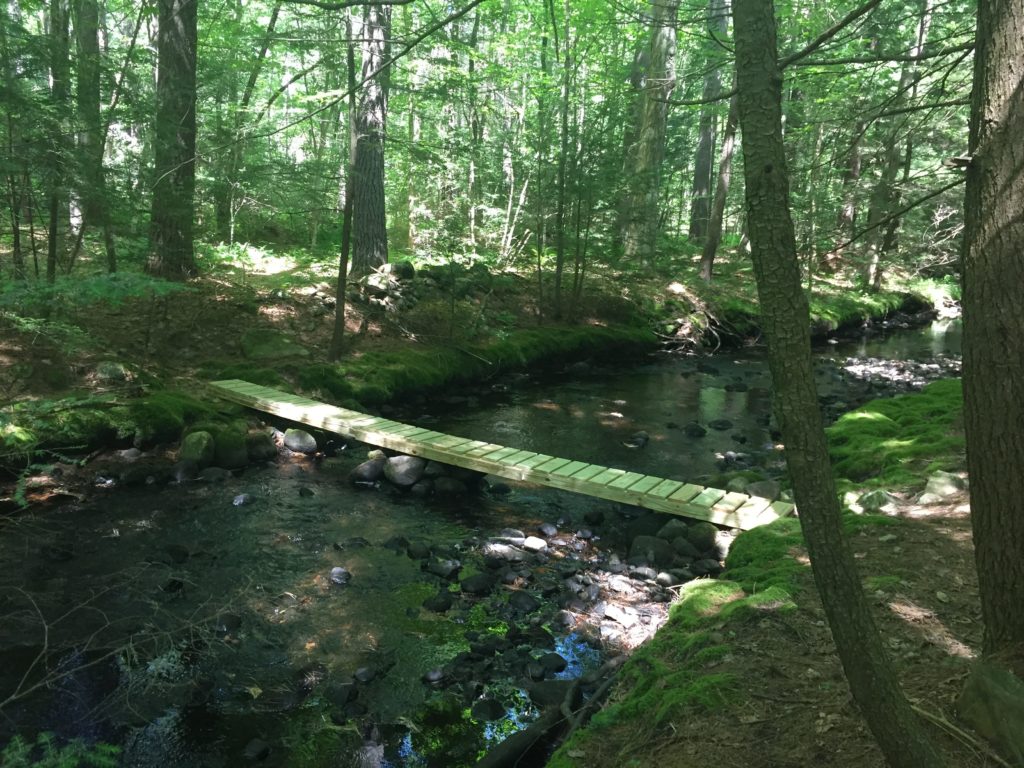 We finished that off with a trip to the Nashua River Brewer's Festival, where we discovered many new and exciting microbreweries near us, including River Styx Brewing in Fitchburg, MA, and New City Brewery and Building 8 Brewery in western MA. More about that here.
June was also the month where we signed the contract for our bathroom remodel. Our upstairs bathroom had been in need of a remodel basically since we moved in; in addition to having a Serious Case of Blue, the tub was cracked and falling apart. We contracted with a local design firm, Signature Kitchens & Baths, which was just around the corner from our house.
July brought two July 4th parties, and I brought my mead to both of them. I think it was well liked!
I attended Readercon, the local convention of SFF writers and readers, and got to visit with many of my writing friends.
I also traveled out to Walkill again, this time for my cousin Eli's graduation party. Matt, alas, once again couldn't make it, so I brought EB along for company. Funnily enough, Eli's first job out of college is at Lockheed-Martin, the same place (and the same division, even!) where Matt works.
EB and I didn't miss the opportunity while we were in New York to visit some other Atlas Obscura sites, including the abandoned cemetery of the Dutch Reform church in Beacon. I wrote more about that here.
August was possibly the busiest month of the year, and I still can't believe we did all this! Our first weekend saw us at another beer festival: the Johnny Appleseed Beer Festival in Leominster, MA. We discovered a few more beers and ciders to love there, like Carlson Orchards' Shandy Stand, or Havoc Meadery's Psychopomp. Read more about this adventure.
Our bathroom renovation began in earnest this month, with a demolition crew showing up at 7:45am on the promised day. First time I've seen contractors be early!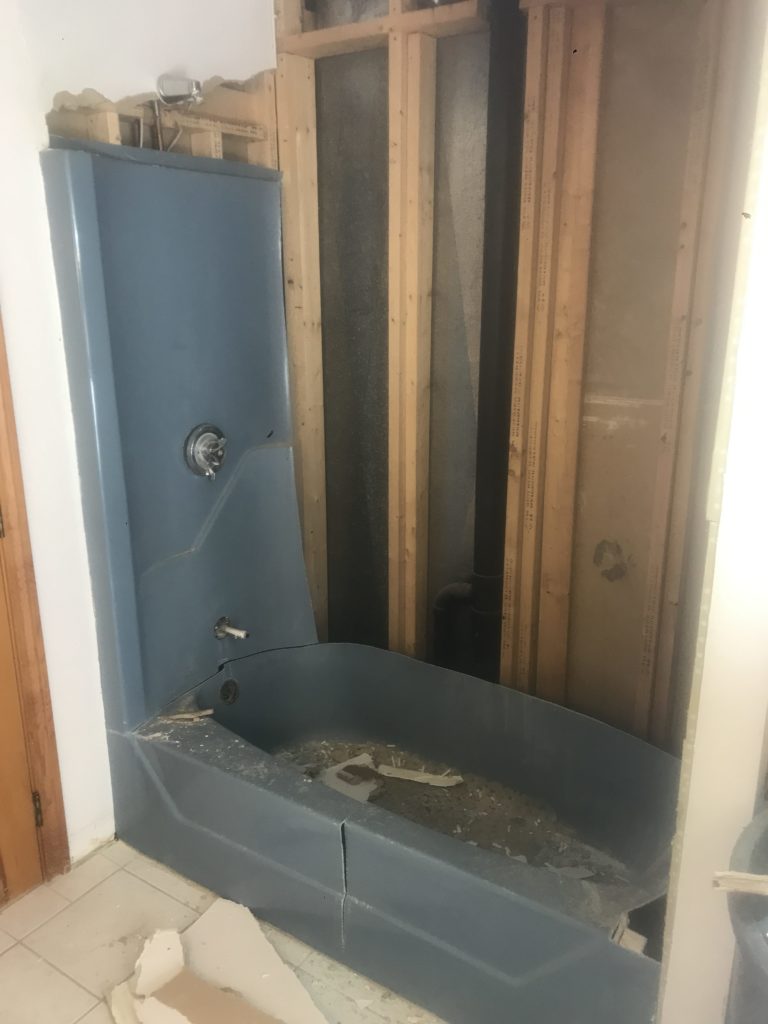 We decided it'd been a while since we'd hiked a mountain, so we got together with our friends Matt K and Tegan to hike nearby Mount Wachusett. At just over 2,000′, it was barely a mountain, but since trailblazers on the East coast don't believe in switchbacks, we felt every foot of that. More here »
I also took a trip to Provincetown, MA with my friend Alison that month. Along the drive we visited the Edward Gorey House in Yarmouth Port, and saw the famous "dunes on the Cape" at Race Point Beach. I wrote about that adventure here — with pictures!
Mid-month I flew off to Canada to spend a week with my mom at the Stratford Festival in Stratford, Ontario. I saw several new Canadian plays, a modern adaptation of The Front Page, and a version of Henry VIII with one of my favorite Stratford actors (Jonathan Goad). But my favorite thing was going out to Goderich, Ontario to the shores of Lake Huron. I could not believe how blue the waters were! It was like being on the Mediterranean…
After that, I rejoined Matt in Massachusetts, and we drove up to my hometown of Peru, NY, to go camping with my dad at Ausable Point campground, where we've been camping on and off since I was a kid. Matt and I took a day trip to Ausable Chasm–"the Grand Canyon of the East." Despite growing up less than five miles from it, I hadn't visited since I was a wee baby. It's a spectacular site, and after both rafting AND tubing down the canyon, we visited some local breweries.
September kept us very busy with larps, but we had time to fit in a few other seasonal activities.
The first of these was peach-picking, which we did with some friends at Carlson Orchards in nearby Harvard, MA. (Home of our favorite shandy!) There were also picking berries that day, so we feasted on raspberries and blueberries, as well as Mediterranean food from a visiting food truck. More here »
I've had a goal for a while to take a (kitchen) knife skills class, which I did at Monty Tech in neighboring Westminster, MA. There I learned that I can manage fine brunoise cuts, but onions are still my archnemesis.
I finally had the opportunity in September to attend The Big E, which is basically a state fair for all of New England. It's ginormous, and I only had one evening there, but I managed to eat many tasty foods and do some Christmas shopping, so I consider it a win.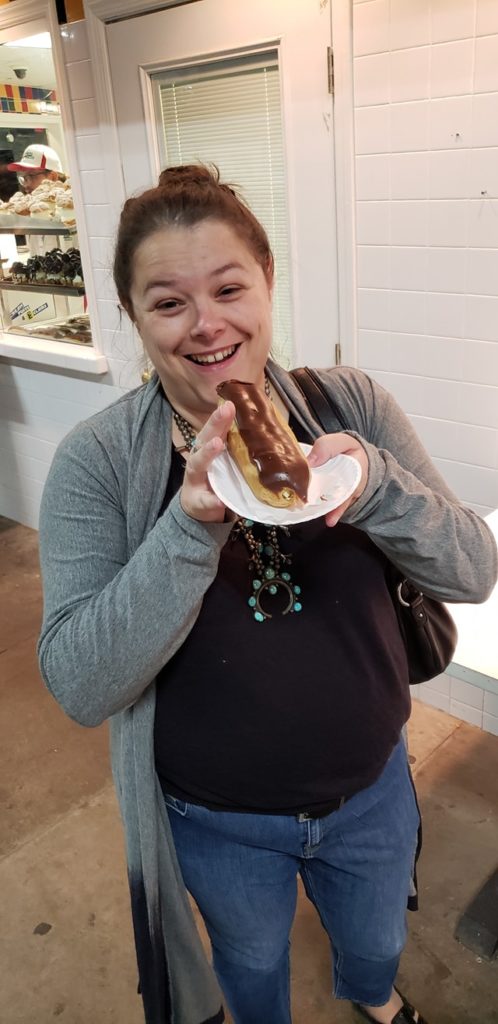 Finally, the bathroom remodel was complete in September! We are so pleased with how it turned out. Taking baths is possible again!
I wrote more about knife skills, the Big E, and the bathroom remodel here »
October was another busy larp month for us. Matt officially joined staff for Madrigal 3 this month, after the success of the electronic props work he'd spent much of the summer working on! I adore that he has started blogging about it here.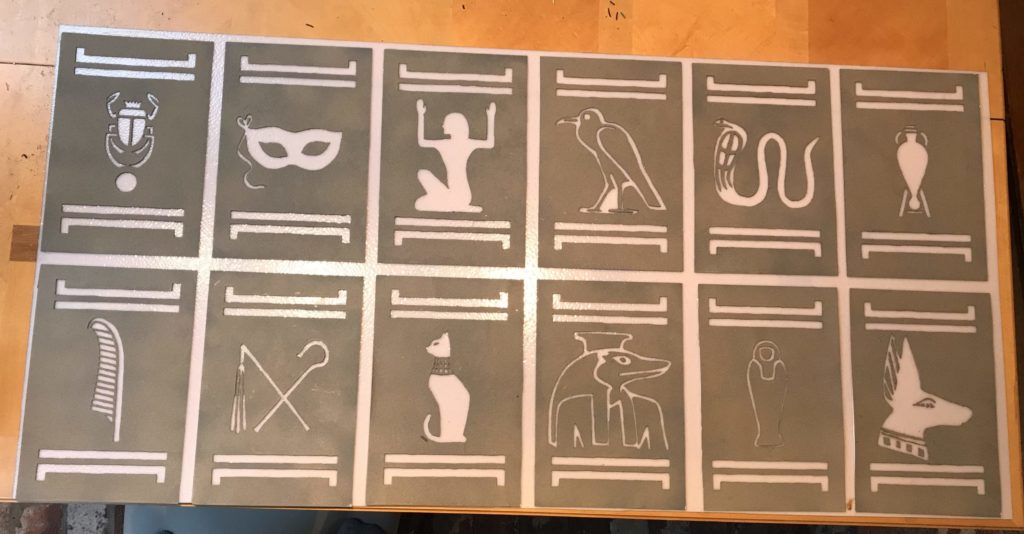 This month is also our anniversary month. We celebrated twenty years of dating and fifteen (!) years of marriage with dinner at Lucia's, our favorite Italian restaurant in Ayer, MA, and seeing the Mystery Science Theater 3000 live show in Boston. (The movie was Circus of Horrors (1960), which deserved all the riffing it got).
I also donated blood for the first time in decades that month, and recalled why I don't usually do so. I did find out I'm A+, though!
I got in the Halloween spirit that month by spending hours building a spooky labyrinth with the housing system in Elder Scrolls Online. We also attended a delightful Halloween party at our friends' Katie and Jerry's new house. More »
November is always an odd month for us, as a big chunk of it is eaten up by our annual trip to England. But in the early half of the month, Matt began tackling a "winter declutter" project. Between November and December we cleaned out many of our books and finally reorganized our basement craft area!
I paid a visit to my mom in Plattsburgh in November as well. It was interesting watching the season change from fall to winter as I drove north! We had a fun time visiting Vermont together.
Finally, at the end of the month, we traveled to England. We spent four days at the larp convention Consequences, in Christchurch, and then spent another six days being tourists in Bath. There, we visited the Roman Baths and Bath Abbey, ate at the Georgian-era Pump Room, compared the merits of the Bath bun vs. the Sally Lunn bun, took a six-mile walk around the hills of the city and then spent the afternoon at the world-famous Thermae Spa, and took tea and a tour of the Jane Austen Center. Best of all: I didn't get violently ill this year!
December 1st is when we flew back from England, and it was full-on winter when we arrived. We drove home from Boston Logan airport in the midst of a storm that dropped 18″ of snow on, wondering the whole time if we'd be able to get into our driveway. (We were).
Sadly, when all this snow melted, it flooded out the bridge we built last summer. As soon as we realized it was missing, we searched the course of the river as far as the lake, but saw no sign of it. We've since learned from our neighbors that maintaining a bridge is something they've never had luck with, either. It remains to be seen if we'll attempt a more durable one, or live with wet feet.
December also brought holiday parties — one every weekend — and that means baking. Matt baked his famous orange-cardamon pizzelles, which were in high demand at the cookie swap we attended. As I write this he is working on yulakhaka, the Norwegian Christmas bread that is a family tradition.
As for me, I baked pfeffernüsse, and I also put on a new batch of a sour cherry quick mead. We'll know in a few days how it turned out…
Matt's parents fly in on Christmas day, and we'll be hosting them through December 29th. We're excited to host them at our house again with all the changes we've been making ! As a result, we have a tree for the first time in a few years, and our kitties even suffered through a few holiday pictures…
In closing, it's been an incredibly busy year, but also a very happy one for us, with adventures with friends and family and good food and drink. I hope your holiday season is everything you need it to be: warm and full of family, or quiet and cozy with your furry friends.
Much love,
Lise and Matt