It was an exhausting and exhilarating and strange weekend at Intercon O, and I am feeling some serious con crash now 🙁
For posterity, what I did:
I spent much of Thursday daytime having a panic attack, because this is how I greet Intercon, apparently. Maybe one day this won't be so, but this year, at least, I was freaking out about preparing my panels and getting up to speed with all the characters I'd be playing.
Pre-con: I participated in a bunch of panels — so many that I was basically incoherent at the end of Thursday, having talked and thought too much that day. These panels were:
Turning a Work of Fiction Into a LARP (moderator), with Quinn D and Lisa P.
Film Noir Fashion: Dress of the 1940s (a presentation I did all by my lonesome). Three people showed up, counting Matt, and one of them left halfway through 🙁
Why We LARP (moderator, again), with Tony M and… I don't even remember who else.
Useful Handsewing Techniques for LARPs. No one showed up, except Steve K, who had no interest in learning about hand-sewing. It ended up being "social hour with Lise."
So You Want to Run a Game: Questions You Should Be Asking Yourself, with Steve K and Chad B.
The biggest disappointment was the lack of interest in the stuff I put together. I think this is the last year I'm going to do presentations/workshops on costuming topics, at least by myself.
Friday afternoon I played in run A of Shadow Over Mars, a first in a series of one-shot larps set in the Space 1889 setting. I was Chloe Monteil, an angry Frenchwoman, gunner on the ship The Moon of Shastapsh.

Imagine I'm saying, "Zese British bastards!"
It's amazing how much mileage I can get out of being French and angry — four hours worth, at least. I got to shoot things, and swear in French a lot, and I ended the game by dying(?) dramatically — I was stabbed and pulled off the ship, yelling "MEEEEEEEERRRRRDDDDDEEEE!" on the way down.
Quote from the game: "Ze only people I trust right now are zese two," (points to A.J. and Jeff D's characters, two ex-naval officers), "because zhey are trying to sleep with me."
Bingley, A.J's character, nodded and said, "I admit there may be some truth in that observation."
Also, I got to play off Steve B, Consequences con chair, who was returning to Intercon for the first time since G. That was delightful 🙂 I'm looking forward to seeing him and all my Consequences crew again in November!
Finally, the game was responsible for this sign, which entertained me greatly: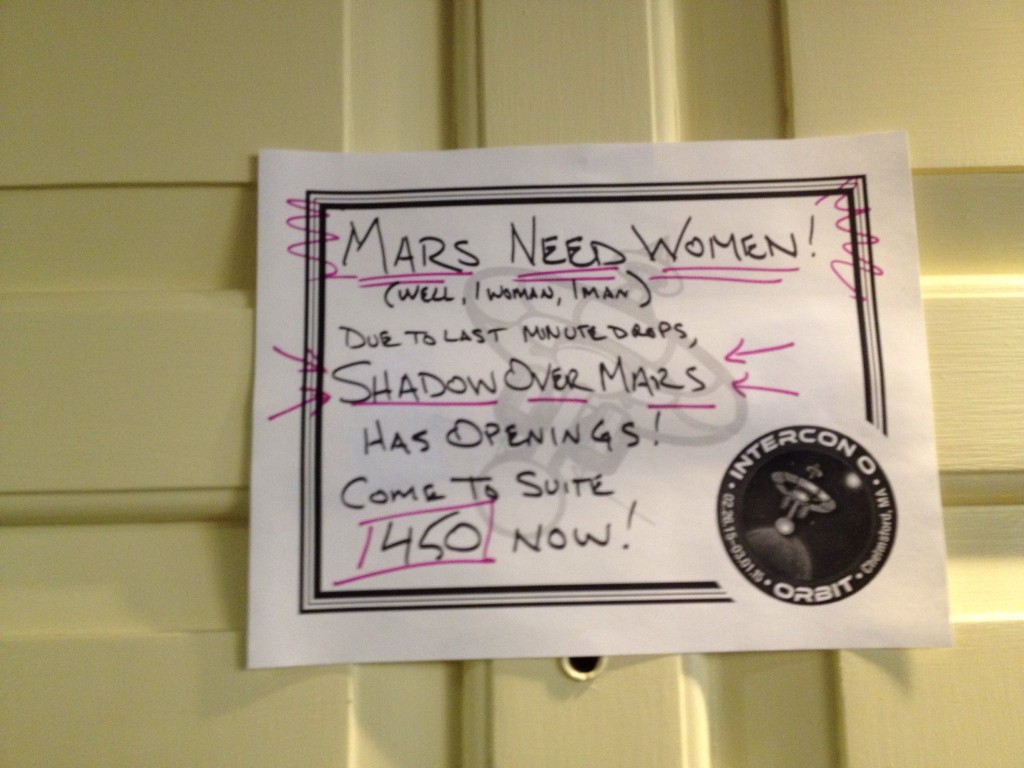 Friday evening I ran Midsummer Mischief, that delightful Wodehousian game which I like so much that I keep running it for Americans. The game ran very smoothly, many people got engaged (and un-engaged, and re-engaged, and re-un-engaged), pigs were loosed, and Nuance wore a fabulous hat as Lady Constance. She also was part of one of the best exchanges in game:
"Was that before or after you started blackmailing my brother?"
"Before! I mean, after! I mean…"
Warren T, who played Lord Emsworth (and who was one of the writers/GMs for my Saturday game), also showed up wearing a bathrobe and carrying a book about pigs, which I think says everything you need to know about that dreamy peer, Clarence Threepwood, 9th Earl of Emsworth.
Most of Saturday I was in Ex Ignorantia, an eight-hour game of Lovecraft in academia. I played Briony Travis, socially clueless grad student in the physics department. It will surprise no one to learn that there was, in fact, some Mythos stuff going on in my plots 😉

Nothing says "srs bzns grad student" like a Rowsdower MST3K t-shirt, a suit jacket (with bonus cat hair), red shoes, red button earrings, and a Nyankochan sakuramochi purse.
I think what I liked so much about this game was the fact that… it's a lot like a game I would write! By which I mean, it has fairly detailed mechanics, but it also has great writing, and characters that are much, much more than cardboard cutouts.
Like seriously, the writing. From what I understand, most of what I interacted with was done by Kristen H, as she was primarily the writer for my faction's plot. Everything from my character I identified a leetle too much with, to the adventures in the sacred groves, to our trip to Carcosa to stop the summoning of Hastur, was beautifully evocative.
The upshot of the game was that Dagon/Cthulhu got control of the earth, minus a few patches carved out by lesser summonings. Briony ended up in one of those with Geoffrey, Will F's character, after losing most of her faction to the trip to Carcosa.
(Also, as far as HPL knowledge goes, these people knew their stuff <3)
Alsoalso, I got snubbed by Nyarlathotep, so there's that.
Alsoalsoalso, the fact that the game was mostly run by people who had been in MM the night before makes me wish there were such thing as a Lovecraftian Wodehouse game. Of course, it would have to be named after that chapter in LoEG Black Dossier: "Wot Ho, Gods of the Abyss."
Saturday night, I played in A Song of Mergers and Acquisitions, which promised Game of Thrones-style politics in a corporate setting. I was Helen Zakarian, assistant to the president of the Congress, with no particular house affiliation. (There is a GoT character who is my analog, but it would be spoilery to say who).
I wanted to like this game — I very much like the type of character I was cast as — but in many ways it didn't work for me. On the whole, it was a rare game that would have benefited from more mechanics.
For one thing, it's the sort of game which needs an information economy, and there just… isn't one. Plus, my character sheet gave me very little sense of my character and what I wanted, and so bargaining couldn't really happen. I had so many conversations that were, "I can tell you incriminating things about Stark! In return could you… oh. I see you're already going to vote the way I want you to."
There was also the fact that no one apparently knew until the end of game that all the votes required a two-thirds majority. Which, despite the fact that almost everybody agreed on everything (another problem: not enough conflict for a GoT game), meant that nothing passed. (In part this was my own oversight: I said to Baratheon — played by Kevin R — something like "Everyone agrees on reducing tariffs!" and he conveniently decided not to correct me).
On the whole, I think this game has a lot of potential, but the writers might not want to shy away from mechanics so much, as it would do a great deal to make the game feel like a GoT game.
And that was basically my con, game-wise. I sadly did not have wakefulness for any parties, which was to my detriment 🙁
Sunday was Packing the Car: the LARP, which I always have to play alone because Matt is in Sunday games 🙁 There was also the "chatting in con suite" part of the day, in which I discovered that Alex P's first Intercon game was also my own (A Question of Faith, at Intercon F). I also received a bag full of real British Cadbury from Suey, listened to Mike Young talk about the terrible games he has been in, and went to the now-traditional Chicago/Brit-contingent dead dog at Priya, an Indian restaurant in Lowell. I spent most of that chatting with Laurie and Ian, first-time Interconners who turned out to have a ton in common with us.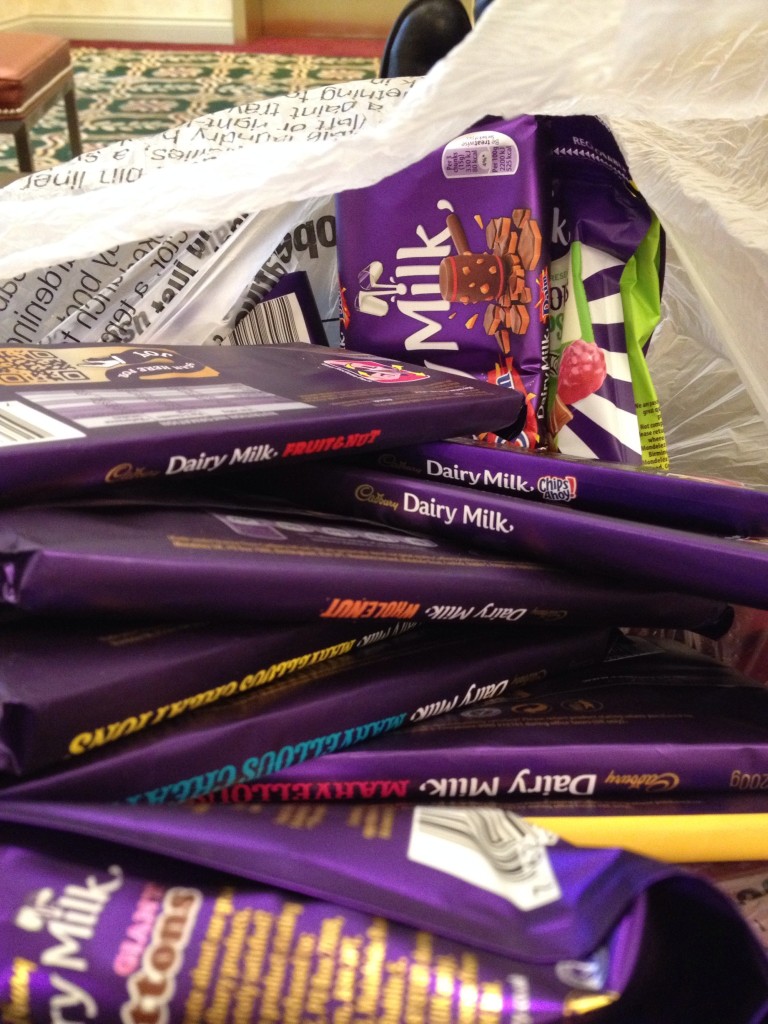 This is what a fuckton (metric) of Cadbury Dairy Milk looks like.
Oh, and I went to closing ceremonies long enough to learn that a) Sharp & Sensibility is running in Delaware in October, and b) it's the same weekend as the final event of Cottington Woods 🙁 🙁 🙁 I may decide to go without Matt. We'll see.
I also learned that there will be another Whateley's game in the fall, and Matt insists that this year is the year we finally get out to Chicago to play.
And now… Intercon P is Pirates, and I'm cogitating ideas for new games. Oh no…