Mead Again
I put on my first batch of real, two-stage, "long" mead on Monday based on the recipe in Ken Schramm's The Compleat Meadmaker.
I only made one gallon, rather than the five gallons he gives the recipe for, mostly because it's hard to sanitize a five-gallon carboy when you don't have a working bathtub. This is intended to be a basic semi-sweet mead — 3lbs of honey and a little less than a gallon of water, and no flavorings. This one uses a wine yeast, Lalvin 71b-1122, which Schramm recommends for leaving some residual sweetness. This is also my first time using Fermaid K as a yeast nutrient.
And yet here we are, some… 56? hours after I started, and I still haven't seen bubbles in the airlock. Hm.
Of course, it will take longer to start fermenting than my quick meads. The ratio of yeast to must is smaller, and there's a greater ratio of air in the pail to displace (1 gallon in a 2 gallon pail, vs. a half gallon in a half gallon glass jug). Plus the plastic walls can expand a bit.
But still. I worry. Pointlessly, because the worst thing I could do is open up the pail and look at the must.
I'm just not sure at what point I'm like, okay, this thing is not fermenting, what do I try now?
(I'm also worried because some of the tools I ordered for this batch turned out to be utter crap — a racking cane that doesn't hold enough pressure to siphon, a thermometer that seems way off. Maybe the yeast is old, or the pail has air leaks?)
(Alsoalso the starting specific gravity measurement was very slightly lower than where it should have been — 1.109 vs. 1.112. Worry worry worry…)
Readercon 20 and Writing Feels
I was at Readercon last weekend! I saw lots of writing friends! I attended panels about translation, curating a personal library, and the existentialist philosophies of Lloyd Alexander! I went to the Viable Paradise dinner! I ran into some newfound acquaintances!
I also spent a good chunk of time in my hotel room, playing Prison Architect, because SFF/writing cons give me Hard Feels sometimes. For more about that, see this Twitter thread:
However, I'm happy to say that I'm getting back to the editing of Lioness (again), regardless of these feelings. This last edit has really been more like a rewrite, moving a bunch of stuff that should have been upfront in the novel, but wasn't, into the beginning chapters. Of course that has a butterfly effect on eeeeeeevery scene that comes after it…
But after this is done: that's it. Both my therapist and I have agreed that, for my mental health, this needs to be the last edit. I may run it by one or two people for "pointing out glaring-but-easy-to-fix errors" duty, but the last thing I want is someone else to tell me I need to rewrite it.
Reading and Listening
I finished listening to Scott Westerfeld's Behemoth, which I greatly enjoyed. Will probably read the final book at some point.
For now, I've moved on to listening to Stephen Fry's Victorian Secrets, an Audible Original. I'd describe it more as an audio-drama-slash-documentary than an audiobook; Fry narrates parts of it, but he also talks to historians and other experts, and there are mini dramatizations of certain historical events, i.e. the trial of a Forty Elephants kingpin.
All in all, it's amazingly entertaining, but one disappointment is that in the chapter on Victorian pornography, it's not Fry who narrates the example of gay smut 😉
I also started listening to the new-to-me podcast Ephemeral, after hearing it advertised on other Stuff podcasts. It's about "those things that were just barely saved, and in some cases not saved at all," which is so sublimely On Brand for me — someone who has talked before about being a memorial, of remembering things that other people have forgotten. It should be no surprised that I binged the first six episodes while driving back and forth to Quincy for Readercon.
So far the most moving episode has been episode 2, "Diaspora," which talks about music from the Ottoman diaspora in America in the 1910s and 1920s. The songs they play are hauntingly beautiful, and you know the only reason they are not more better known is… well, racism. It also tied in well with the alternate history of 1910s Istanbul that I'd been exploring in the Leviathan series.
I also liked episode 3, "EphemaWHAT?!?, where he talks with a material culture studies professor, Sarah Wasserman, about ephemera as "items that contain with them their own eventual destruction." There's something so incredibly Zen about that — and, I feel, relatable to writing practice.
The producer of the show, Alex Williams, is the sound editor for other Stuff podcasts, so unsurprisingly his focus is very audio- and music-driven. That's fine, but if I have one complaint, it's that I'd like to see more episodes that speak to the original meaning of "ephemera," i.e. paper, or print.
Links
In Parting
I nearly lost my beloved stuffed dinosaur, Instegra Helsing, this week! My husband cleverly snuck her into my suitcase for Readercon, but I not so cleverly left her in the bed at the Quincy Marriott. Luckily thehotel overnighted her back to me, and she arrived home yesterday. My husband snapped this pic to send to me while I was at work.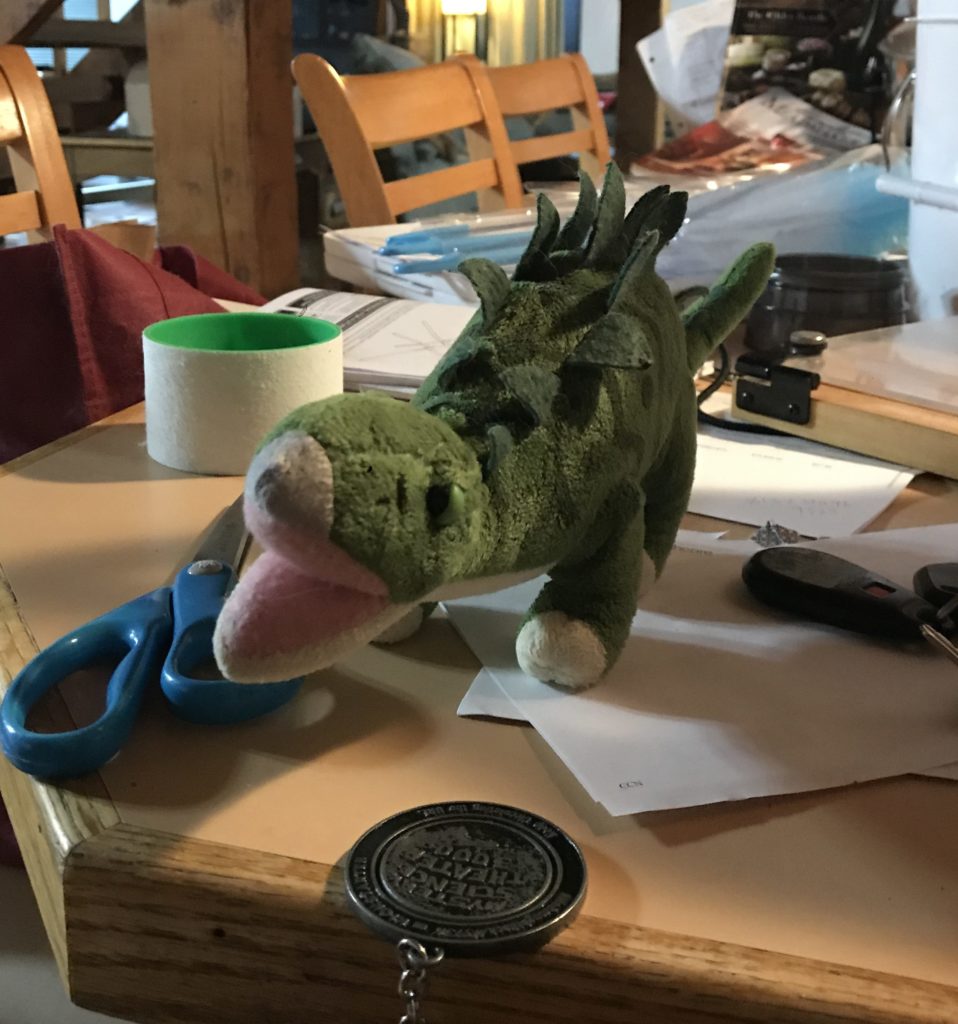 Look at her face. Doesn't it just say, "I had the best adventure!"? That, or "local stegosaurus in great mood today!"