This has been a week of ups and downs. I hit bottom on Wednesday, feeling overwhelmed with the stress of life, and in particular worries about writing. Thankfully I have amazing friends who helped to lift me out of that bad place, and by the end of the week I was back to work on Lioness, writing what is functionally a new beginning for the novel, to address some of the bigger structural and character concerns that were stymying me.
Also this week I visited Newport, RI with EB, which hit a sweet spot of gravestones and gilded age glory.
I have mostly closed out the month of January in my year of habitat, which was devoted to improving my master bedroom. I managed to finally put away Christmas decorations, clean out the loft, get rid of a lot of junk, hang curtains, and put down a rug. More remains to be done, but it is already way more comfortable and habitable than it was.
Accomplishments
Writing
– Brainstormed a "mini-mission" for a new beginning to Lioness
– Worked 1h 30m on this mini-mission
Other Media
– Listened to The Training Dummies, episode 183
– Listened to Stuff to Blow Your Mind, "Meditation Lab: Empathy and Energy"
Habitat
– Bought a new rug for the bedroom
Social/Travel
– Had sushi with EB at Jasmine in Auburn
– Visited Newport, RI with EB, where I:
Had lunch at local chain Walt's Roast Beef
Toured The Breakers, the famous Vanderbilt "cottage"
Visited the Irish lot, a private family graveyard with mysterious holes through the tombstones
Visited the Ragged Island Brewery and sampled their collection of beers
Looked in vain for the grave of Pookie, a dog that belonged to Edward VIII and Wallis Simpson
Had dinner at Benjamin's in downtown Newport
Health
– Free run/walk (1.63mi in 30m; thanks, ZR5K, for crashing repeatedly and making this necessary)
– 10 min on stationary bike
– Did Zombies Run 5K Training week 2 workout 1 (1.75mi in 34:47)
– Did ZR5K week 2 workout 2 (1.87mi in 33:47)
Picture of the Week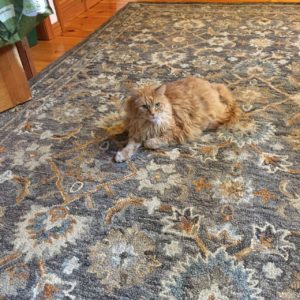 New rug. Cat not included in the price.